I love collaborating with each client to create a one-of-a-kind original design. See below for an example and explanation of the pricing for designs. Please contact me for more detailed pricing for your event.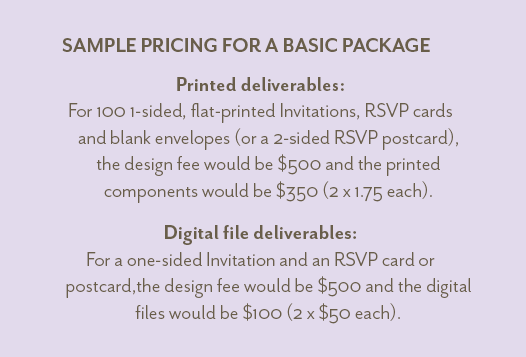 Pricing consists of two components which includes 

(1)

a design service fee (time spent designing) and 

(2)

 costs for each printed deliverable (such as invitation, RSVP, labels, etc.). If your deliverables are digital files for printing elsewhere or use on the web, there is a flat set-up fee of $50 per file. Read below for a breakdown of each component.
COMPONENT 1: DESIGN SERVICE FEE
A flat Design Service Fee is charged for every project and includes two initial draft options followed by up to 3 rounds of revisions. Design service fees start at $200 and depend upon the project scope.
COMPONENT 2: DELIVERABLES
Printed components start at $1.75 per piece and depend upon the needed quantity and print process (flat printing, screen printing, foil, letterpress, etc.).